Now Helena Barbieri is not a one of the big name designers. You won't find much on her online or even in design texts. She didn't pioneer a new silhouette or change the direction of fashion. Like many talented designers, she seems to have been successful in a lower key way, but not ever really celebrated by the media. Indeed, all that is readily available out there online is her
obit
in the NY Times and the bio on the
Vintage Fashion Guild Label Resource
.
Yet there are these evening gowns running around that are outstanding . They are well made. They are colorful They are detailed. They were not cheap, at least not at Bergdorf Goodman! And they certainly spoke to a specific customer and showed a specific vision.
Sometimes the only difference between a famous designer and one known only to the cognoscenti is the quality of their PR firm and Ad agency. Remember, Ceil Chapman was just a designer of nice ladies 1950s cocktail dresses until a few years ago. Van Gogh died penniless.
Let that be a lesson to us all.
A small retrospective.
1950s Helena Barbieri chiffon & satin gown with Satin Stole
1960s Helena Barbieri strapless green crepe evening dress with chiffon wrap from the www.pastperfectvintage.com archives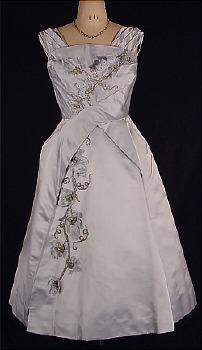 c. 1950's Helena Barbieri ice blue satin beaded dinner dress from www.antiquedress.com
1950's Helena Barbieri celery & black taffeta asymmetrical gown from http://www.vintageous.com/
c.1960-70 Helena Barbieri embroidered silk gown from
www.vintagetextile.com
1950s Helena Barbieri lily of the valley evening dress from http://www.divinefinds.com/